Freya Dee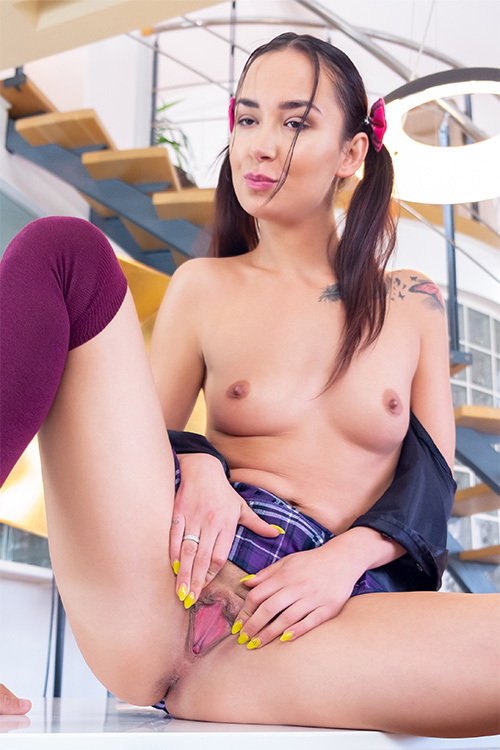 Measuraments:
32B - 25 - 37
Country of origin:
Slovakia
Photos of Freya Dee
VR Porn videos with Freya Dee
Freya Dee's Biography
She was born in May 1994 in Slovakia. Her career began quite recently, in 2018 – but it does not mean that Freya Dee does not know what she is doing! She has already made quite a large number of films, and we are actually surprised by the strength of her activity in the VR porn industry – but we, at the same time, are glad that in the end, she has decided to become a VR porn whore of VR Conk, too! Most young pornstars, including Freya, look quite innocent – but do not let that confuse you and you can easily consider her being one of the sluttiest whores you have ever fucked. Her dark hair, babyface, skinny perfect body with few tattoos – butterfly on left shoulder and feather on the left clavicle, text on the upper back, and text on right arm – all of that makes her a perfect lover for you, as soon as you will wear your VR goggles and join her at VRConk.com. However, these are only appearances – in fact, Freya in bed is a real goddess, as her name indicates. One look and a seductive smile are enough and you will be gone forever. In her private life, she values ​​peace, likes to eat a good meal, read interesting stories, and in bed, she likes to be pampered. But despite her personal preferences, you will find her in movies in the categories like anal, facial, lesbian, hardcore, threesome, massage, creampie, double penetration, interracial, solo. She is a versatile VR porn slut and she knows how to fuck in many different styles and positions – she is waiting for you and your cock as we speak, so join her and fuck her as hard as you only desire to add a Slovakian girl to the list of countries that you have managed to screw!
Pornstars like Freya Dee