Hadley Mason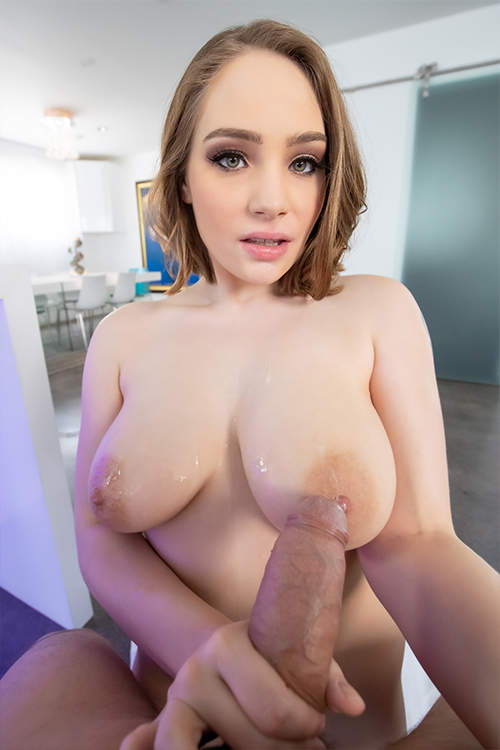 Measuraments:
36D - 28 - 36
Country of origin:
United States
Photos of Hadley Mason
VR Porn videos with Hadley Mason
Hadley Mason's Biography
Hadley Mason has one of the most beautiful boobs in the entire VR porn business, and as soon as you will see them in their full glory – on behalf of one of her virtual reality sex scenes in full 3D 360 degrees – you will understand in no time what do we mean by that. Well, she is in general really curvy and has beautiful feminine shapes that could be a really good example for a lot of girls attempting to look beautiful – and since she is all-natural and did not improve anything in that mesmerizing look, it should have been even greater appreciated and acknowledged as a really rare and precious thing. We do not have many such beautiful blonde VR porn stars in our ever-growing library of professional VR porn models – and since we are working with only the best and the sexiest ones of them, it indeed is a huge achievement and a thing to compliment. Hadley loves playing with huge dicks and even though she is pretty basic in terms of her sexual fantasies, she does her own thing pretty damn well – so if you are a heterosexual dude looking for a quality pussy of a beautiful woman for tonight, call her, and you two will definitely get to meet tonight. Producers from VR Conk can help you out with that even more – now when Hadley is here, being one of our professional VR porn models, we can assure that she will be within your reach 24/7, and every time when you will come back here for her, she will be waiting with both her tight pussy and filthy mouth ready. Fuck Hadley Mason as hard as you only desire with your VR headset on – now in up to 8K Ultra HD, too!
Pornstars like Hadley Mason