Scarlett Mae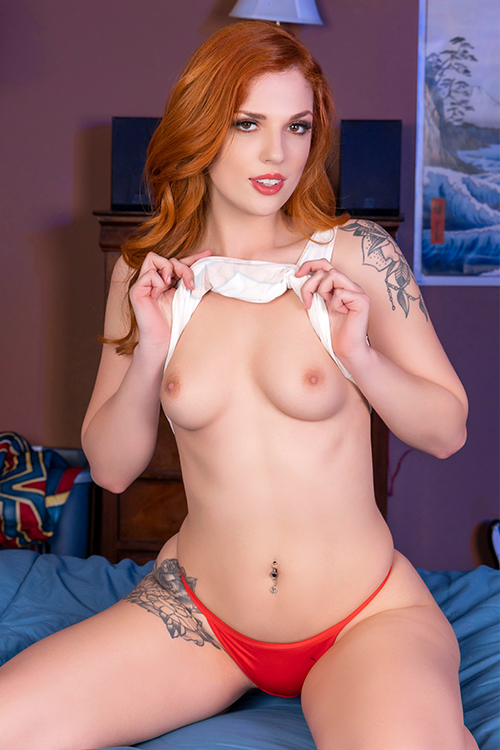 Measuraments:
34B - 26 - 36
Country of origin:
United States
Photos of Scarlett Mae
VR Porn videos with Scarlett Mae
Scarlett Mae's Biography
Scarlett Mae is an all-amazing redhead VR porn babe from Ohio, who – even though is 25 years old – looks like she was barely 18 – and so she fits in a lot of kinky schoolgirl VR porn fantasies and some of your most favorite outfit VR porn movies from VR Conk! She likes to be described as a hotwife – she told that to us, literally – though, and it seems like she has some experiences with cuckold sex – and if you are into such things, you could definitely ask her to play some of these fantasies with you wearing a VR headset. She says that VR porn movies are harder than regular 2D VR porn scenes, but they are giving a whole lot more fun – and so she produces such virtual reality porn experiences from time to time with premium producers like VRConk.com. She loves giving blowjobs and indeed she knows how to do them – and she adores playing with cum, too, so if you will only ask her nicely, she will surely take care of your dick and empty it to the very last droplet of your hot jizz. Oh, and guess what was her reason for becoming a professional VR porn star? She just told us that she was slutty, haha! Can you believe that? Yeah, slutty is the world that we love to hear from our professional VR porn whores (and those kinky amateurs, too, actually), and we are super-happy that Scarlett made that decision of going pro at some point in her life (approximately 4 years ago). Her favorite thing about sex is foreplay, her "trademark" of the porn industry is her skill of doing particularly sloppy blowjobs, and she loves having sex in public – now when you know all these things wear your VR goggles to fuck Scarlett Mae in 3D VR here and now!
Pornstars like Scarlett Mae