VR Conk's Girl of the Month: Kyler Quinn
calendar_today
September 20, 2021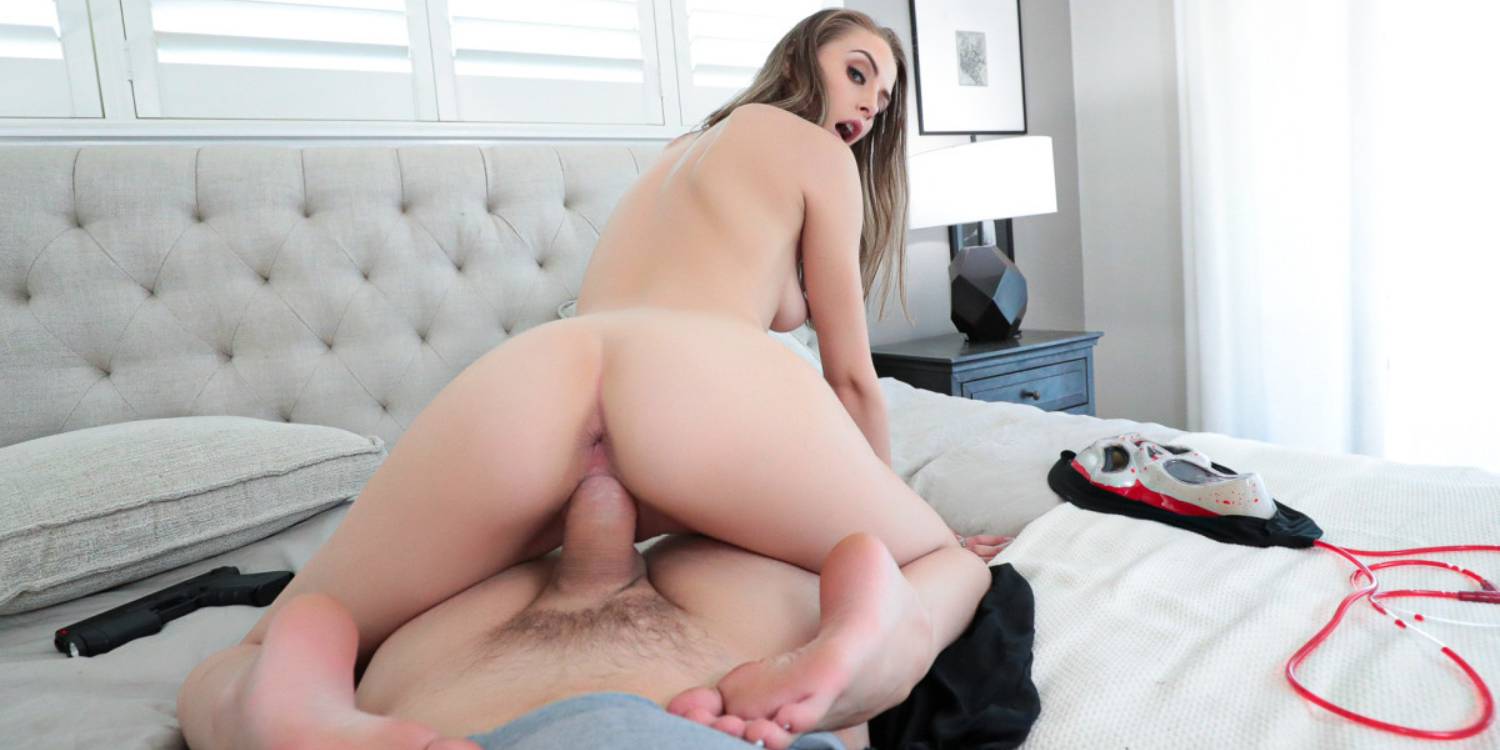 Remember that cutie that lived next door to you. The one with the blue eyes, brown hair, and smile that made you want to do anything to please her. It didn't hurt that her body was perky and curvy in all the right places, and anytime she giggled her bouncy 34B's mesmerized you. Yes, the hottie I have just been describing is real, and she is the VR Conk's Girl of the Month. Say a big drooling hello to Kyler Quinn.
In VR porn the scenes are even more up close and personal because the viewer is actually entering the virtual world. You might take a wild ride into a VR parody, like Scary Movie XXX starring Kyler Quinn, and when you do you will want the porn star in your virtual world to really… ahem… kill the scene (It is a Scary Movie XXX parody, so a killing joke couldn't be helped). Kyler brings all of that naughty girl next door feel to her role in Scary Movie XXX, along with the absolute badassery of a woman that knows what she wants, and how she's going to get it. There's a killer in the house, but this babe could totally murder some dick, and then she shows you just what that means to a naughty slut.
There is more that goes into the VR world of porn, and having the right stars to make the virtual world take off is important. The adult film stars have to be a bit more dynamic, and being extra flexible for a 360-degree world doesn't hurt either. Kyler Quinn is one of those stars that moves seamlessly between the traditional world of porn, and the new shining world of VR.
At 2 years into her porn career, Kyler already has a stellar 151 credits to her name, and a steadily growing Twitter following of over 100K. The response of fans has been nothing but excited, with this sexy little gaper on the scene. Showing her natural talents for the hardcore genres of the adult film has done nothing but favors for this sexy lady. Now that she's a porn star of the VR world, Kyler will definitely be logged in every techie's spank bank. With a banging body, deceptively coy smile, and plenty of hardcore experience to boot, this stunner was an easy choice for VR Conk.
If you are interested in her and perhaps other VR Conk's Girls of the Month, make sure to read more about them all over here.